So I only finished 2-ish projects on my Christmas Break To-Do list. I blame it mostly on the fact that I made that list without considering how little time I'd actually be home during the break.

After spending time with my parents and a couple days in Las Vegas with my boyfriend, I was only home for about 3 days of my break…not enough time to get everything done that I'd planned. Regardless, I had a great Christmas Break and didn't lose all my money in Vegas!
Of course I started with the easiest project…I only really put it on the list so I'd remember to do it. Anyway, my boyfriend has to use the guest bathroom because the master bathroom is so small. I'm 5'4" so I originally hung the bathroom mirror at what I considered to be a reasonable height. Well, he's 6'3" and couldn't see the top of his head in the mirror, so the mirror needed to be raised a couple inches.
Are you ready for this amazing after picture?
Yeah, it looks almost exactly the same…
Of course I can't write a post that's only about raising a mirror 2 ½ inches, so I'm throwing in a bonus. You might have already noticed it in my last post: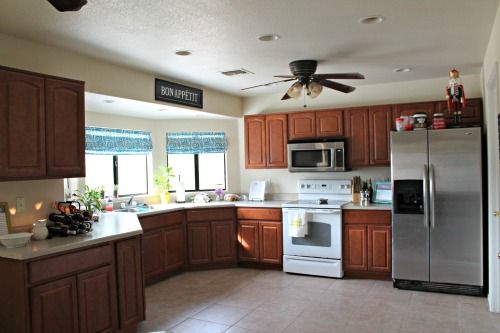 Yep, I finally found something to hang in the kitchen. I bought the Bon Appétit sign in October at the Lolly Jane Crafty Bloggers De-stash Bash (aka yard sale) for $3. Eventually I'd like to make my own sign, so I can make it longer for the space, but I'm loving this sign for now. And let's be honest: it'll take me a year months to make my own sign, so I'll definitely get my $3 worth out of this sign.
Now I just need to find something for the dining room wall…