Last week we reviewed my 2012 Home Goals and so now it's time to share my 2013 Home Goals. You'll see a lot of similarities from last year's goals, but I'm also going to list a few specific projects and rooms that I want to work on this year. I'm officially calling myself out on a couple projects that have been on the to-do list for way too long.
#1 Make Decisions and Kick Fear to the Curb
Usually I have a really hard time committing to a decorating decision. It's partially because I'm indecisive and partially out of fear. My goal is year is to make decisions and not let the fear continue to do my decorating. I will hang more stuff on my walls and not fear nail holes. I will buy what I like (within reason) and not fear that I might get sick of it at some point. I will decorate my house and not fear that someone else won't like it…my opinion (and my boyfriend's) is all that matters.
#2 Stop Procrastinating and Start Spending
This isn't an open check to buy whatever I want, but a push to stop procrastinating and buy what I've already saved for. It's mostly about being lazy – too lazy to stop by furniture stores to look at sectionals, too lazy to list my stove on Craigslist, too lazy to get time off work to meet delivery people, etc. But we need a new couch and I want matching appliances, so it's time to get my act together! These 2 are leftover from 2012, so I really want to get on it early this year.
#3 Live and Let Go
I live with 2 dogs that shed, drool and have muddy paws…and a guy who doesn't care about decorating and has been known to leave dirty dishes around the house – our house isn't going to be perfect. Things will get messy and out of order…and that's nothing to be embarrassed about. We live in the real world not in a glossy magazine. And so this year I'm going to try to stop obsessing (and getting mad) and just let go. Obviously that doesn't mean I'm going to stop cleaning and let everything go to ruin, but it does mean that I'll relax and enjoy myself more. I want to spend that extra 30 minutes in bed on the weekends cuddling with my boyfriend and dogs instead of jumping up to clean the kitchen. Those are my favorite moments and I don't want to miss out on them because of some dirty dishes.
Live Healthier
I'm not committing to losing a certain amount of weight, going to the gym so many days a week, or cutting out all carbs/sugar because those resolutions never work out for me. I simply want to start exercising more and eating healthier. I eat fairly healthy for the most part, but there's always room for improvement (baked goods and/or sweets are my weakness). The biggest part of this is being more active. That doesn't just mean working out at the gym – it's taking the dogs on more walks, playing Just Dance 4 with my boyfriend's niece until I drop, and actually using that treadmill I bought…
Now it's time to call myself out and list some projects/rooms I want to work on:
Painting my china hutch has been on my to-do list since I bought my house. I put it on my Christmas Break to-do list, but didn't have enough time to work on it – so I'm giving myself the whole year! Time to act!
Our backyard is huge and has great potential, but right now it's downright depressing. It's full of dirt and weeds...and it's embarrassing. I'd love for it to start looking presentable. However, it's going to be a challenge because of the dogs, specifically Ringo the Destroyer. He's destroyed everything I've tried to plant back there and pretty much everything else he can get his teeth on, so this is going to take some creativity and a lot of effort.
Lastly, our guest room and office aren't cutting it – using those two rooms the way they are currently set up isn't working for us. You'll hear more about this later, but basically my plan is to turn the office into a man cave/guest room (daybed) and the guest room into a guest room/office. It'll be a lot of work, but it'll fit our needs a lot better.
My goals this year are definitely ambitious, but I'm hoping they'll motivate me over the next 12 months.
And just for fun, here are a few pictures of my living room/dining room/kitchen as of right now. I thought it might be fun to take pictures of the same areas next year to compare the changes. Oh, and don't mind the mantle…I just took my Christmas stuff down and haven't had time to decorate it.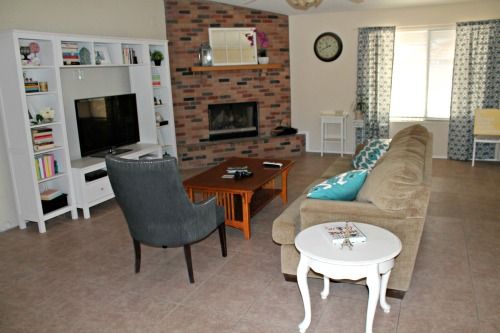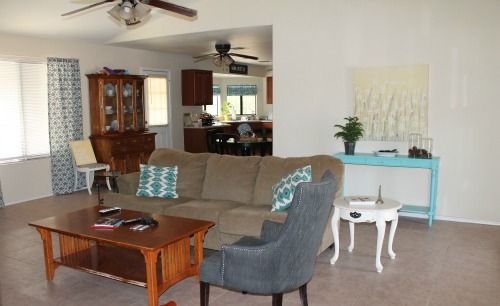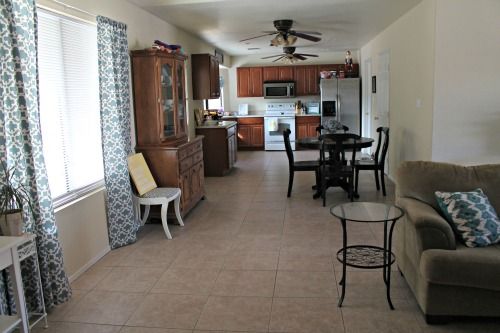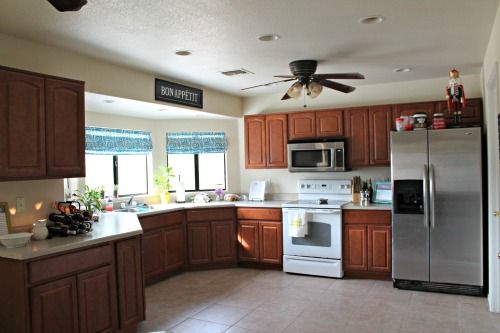 (Looks like I missed the giant nutcracker while I was putting away my Christmas stuff!)
What are your goals/resolutions for 2013? Or do you skip making resolutions because you never keep them?