Just an FYI, this is a

Double Link Party

: If you link up here or there, you'll be on both linky lists!
I'll be choosing this weeks top 3 winners/favorites
from each of the following categories:
Crafty, Scrappy anddddd (yep you guessed it) Happy!
Here are ideas for what you might want to post at this party!
Crafty-yep, anything and all crafty posts are SO very welcome---lets see it----I can't wait to be inspired!
Scrappy-any fun finds from a thrift store or garage sale that someone else might have scrapped but you saved and re-purposed?! Be sure to share those posts too!
Happy-I would love to learn more about YOU-share posts about whatever makes you happy!
No huge and crazy rules....just the normal stuff.
Post anything related to Crafty, Scrappy or Happy---no giveaways or etsy shops.
Link to your specific post you want us to see.
Anddd add my party button to your post or to your party list on your blog----pretty pretty please!!??!!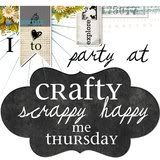 Now go and do some exploring---get to know other wonderful blog friends and be inspired!