I linked up to Jen's very first Highs and Lows Party, but haven't participated since. Have my weeks been mediocre or have I just been too lazy to think back 7 days? Probably the latter. But I'm baaaaack!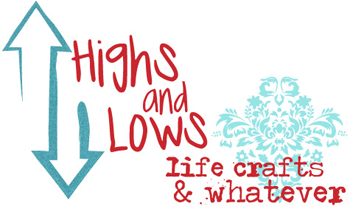 Highs
·

My block fence was finally fixed! Oh, you didn't know it was damaged? Yeah, I decided not to post about it until I calmed down and the issue was resolved. So, expect a block fence rant soon…
·

I'm 5 for 5 against my boyfriend in Words with Friends. He may beat me in sports and anything that requires coordination, but he can't beat my mad word skillz.
·

Our group camping trip was cancelled. Yep, I don't like camping. I was only going because my boyfriend likes camping and I was trying to share in his interests…blah blah blah. So, I got to sleep in my own bed and enjoy indoor plumbing this weekend.
·

I'd already planned a half day of work on Friday for camping, so I decided to keep my half day and was free at 11. An afternoon of Hobby Lobby is always a high.
·

After giving up and hiring someone to care for my pool, the water is perfect. My boyfriend and I went swimming Saturday and it was delightful.
Lows
·
I tried to slam dunk in my pool. I ended up ended up losing my bottoms, scraping my knee on the side, almost drowned, and didn't even make the basket...FAIL!
·

My boyfriend and I have been planning a weekend getaway to Greer, AZ for months now. First the lodge we had reservations for burned down (arson). So, we were moved to a cabin. Now, the town has been evacuated due to the Wallow Fire. So, no getaway this weekend.
(Photo: Apache-Sitgreaves National Forest)
Looking back - It was a good week!