Alright, it's time to kick-off this bathroom makeover - starting with a new shower curtain! Seriously, changing the shower curtain is the easiest/cheapest way to update a bathroom. It's usually the main color/print/focal point, so swapping shower curtains always has a huge impact on the room.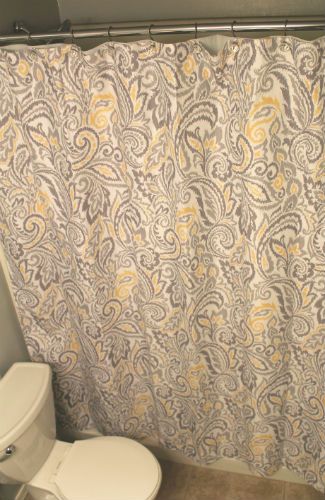 It's the same shower curtain that was on my mood board (Threshold Paisley Shower Curtain in Gray/Yellow from Target) and it looks way better in person than online. I think it looks kind of formal and stuffy online, but it's bright and fun in person. I used the same glass shower curtain rings from before because they are amazing (from Target, but I don't think they are available anymore).
Clearly Ringo approves of my $20 shower curtain update. Actually, he probably doesn't care; he's just obsessed with the shower/bathroom in general. He's been known to sleep in the tub or shower hoping someone will give him a bath. Seriously, if you can get into the bathroom without him following you in, you win a prize at our house.
And so, the new shower curtain is up and the master bathroom makeover has officially begun!